Top 10 Creative Balloon Decoration Ideas for Birthday Parties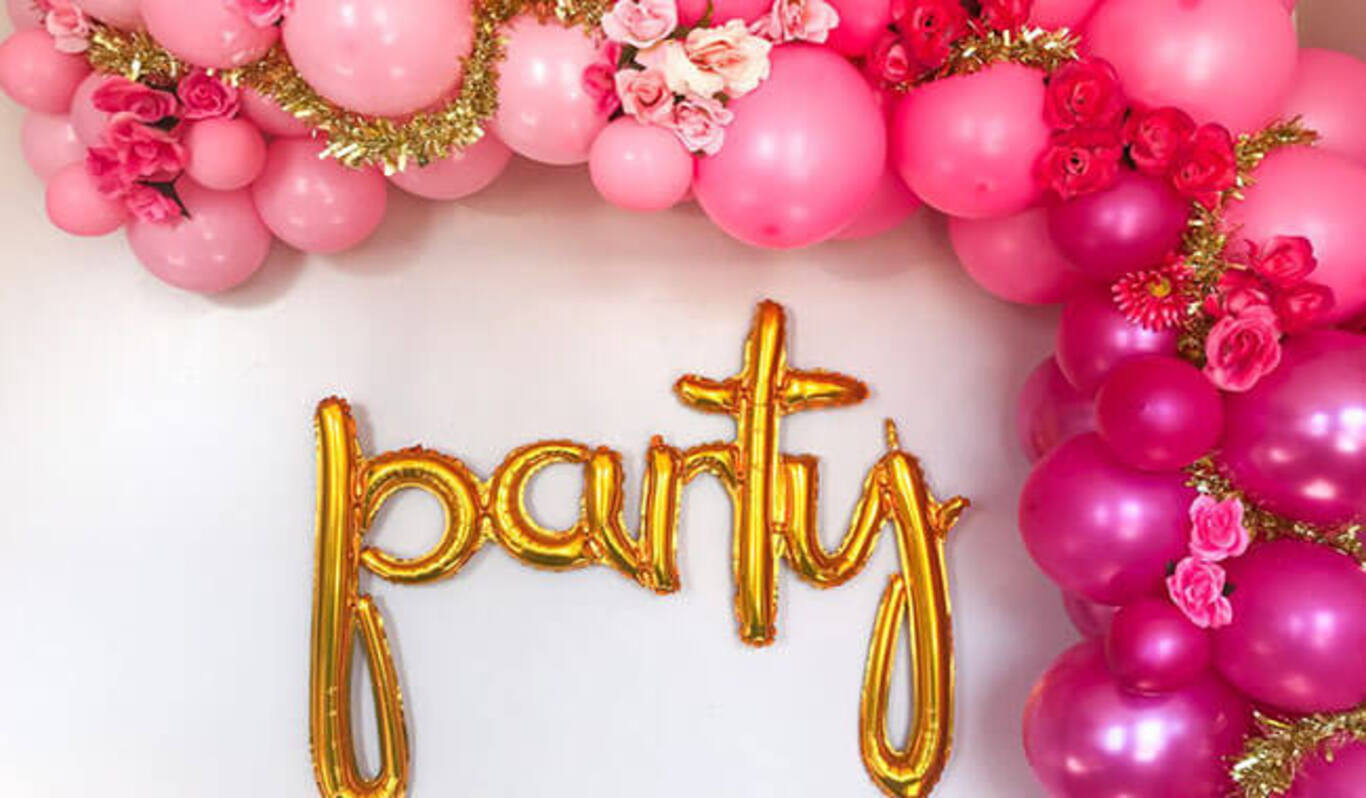 Balloon
decorations add the perfect touch to your birthday party! What better way to celebrate a birthday than with streamers and balloons? Balloon decoration for a birthday at home sounds a little tricky, but it's one of the best ways to get your home ready for a birthday party.
Whether you choose a balloon bouquet or mix and match, we have the perfect way to decorate your birthday party quickly and easily. Browsing for some birthday decoration ideas with balloons at home is a fun task. Plus, these birthday balloon ideas are perfect for all ages. So here are the top 10 creative birthday balloon decoration ideas you should definitely go for!
1. Giant Confetti Balloons
These giant confetti-filled balloons are a great way to set the stage for your birthday party! These giant confetti-filled balloons are perfect for celebrating birthdays. Decorate the room with these colorful balloons to create a festive atmosphere for your VIPs.
Decorating birthday balloons at home with confetti-filled balloons not only looks good, but these balloons are also a lot of fun if they get blown up. With these little glossy papers around, the whole atmosphere will become so colorful and cheerful. This should be your go-to when looking for easy balloon decoration for your birthday.
2. Balloon Stick Unicorn Birthday Party Decoration
Balloon stick unicorn birthday party decorations are perfect for unicorn birthday parties. The ultimate balloon star! These happy birthday balloons are so cheerful that they are always the highlight of a party. Use it to go crazy with unicorn braids, unicorn buns, and more.
Balloon wands are gaining popularity at children's parties because they are faster, easier to store, and reusable (again using helium) than tying balloons. They come in various shapes such as fruit shapes, zebra stripes, hearts, diamonds, and many other novel shapes. It's the literal embodiment of quirky balloon decor in your home.
3. Tie the Balloon to the Bag
Another birthday decorating idea at home with balloons from our side is to tie them up with gift bags. Give your party a festive look with these tie balloons to favor bags. Tying balloons to gift bags is a great way to make any birthday memorable, and they're also unique and hugely popular party favors! This is one of the most attractive balloon decorating ideas for the home.
4. LED Balloons
LED balloons are best for birthday parties and very unique balloon decoration ideas. They create a unique festive atmosphere. They are easy to use; you can inflate them yourself. You can choose from balloons with multiple colors, different sizes, different shades, watercolor, and different durations of lighting. This is the literal definition of stylish minimalist balloon decor.
5. Heart Balloon Background
These heart balloon backgrounds are created only with the help of balloons, you can use these beautiful heart shapes with digital balloons as backdrops for special occasions such as birthdays and anniversaries. Text may vary by occasion and size, we can create any custom text to match your celebration or party theme. Romantic balloon decoration for birthday has never been so good.
6. Mini Pom Pom Decorative Balloons
Decorate your birthday party with mini pompoms decorating balloons for your birthday. You can put it on the birthday table or hang it nearby to celebrate the holiday. Mini pom decorative balloons are a fun decoration for birthday parties. They are really cute and cute. It's also great for gifts that guests take home. Making this easy balloon decoration at home is easy and you can do it yourself.
7. Toned Floral Balloon Arch
Birthday floral balloon arches are one of the most beautiful decorations for a birthday party; colorful floral balloon arches are charming and lovely. Floral balloon arch birthdays can be used to decorate your dessert table, photo booth area, entry table, and walls, creating a festive atmosphere and helping you create an enjoyable and memorable birthday party! Finish it off and you want an easy balloon decoration at home for your birthday.
8. Giant Balloons Wrapped in Tulle
Celebrating someone's special day with a giant balloon wrapped in tulle is fun and exciting. They are a great way to decorate a baby shower, birthday, or any other celebration. They look beautiful hanging from the ceiling or door frame. The tulle material covering them makes them romantic and girly.
9. Double Balloons and Tulle
Create a fun decorative balloon display with this combination of double balloons and tulle. Just tie a knot or wrap it around the balloon string to make a balloon bouquet. Not only is the double balloon breathtaking, but it's also one of the funniest balloon creations. They create fullness and energy for anyone's party, including any special event!
10. Cute Balloons and Ribbons Background
Uniquely attractive, this cute balloon and streamer background design offers a beautiful way to add the perfect theme to any party in the setting you want. These will add the festive vibe you want when decorating for your next celebration. When you look for a birthday balloon decoration picture, this picture will appear first in your search results.
The birthday balloon decoration ideas mentioned in the above article are all cool and can be used for all kinds of birthday parties, whether for adults or children.
Balloons add color and fun to any event. Balloon decorators will create unique balloon outfits for your party while helping you celebrate special moments with your guests. So here are the top 10 creative balloon decoration ideas you should definitely go for!
To decorate your home like never before for the perfect birthday party! For a birthday party at home, you can never go wrong with these balloon decorating ideas. So try your luck for them soon and throw the best birthday party ever. If you need to buy party balloons, please
contact us
.
JOYEET is a professional
custom party supplies manufacturer
. With over 10,000 unique party products, we have a large factory for kids' party decorations, and homewares, and are a leading supplier of fundraising products. For individuals, nonprofits, and schools, our budget-friendly purchases offer countless reasons to share a smile while making all of life's moments more special.