Ways to Use Storage Baskets for Storage on Shelves and Many Other Places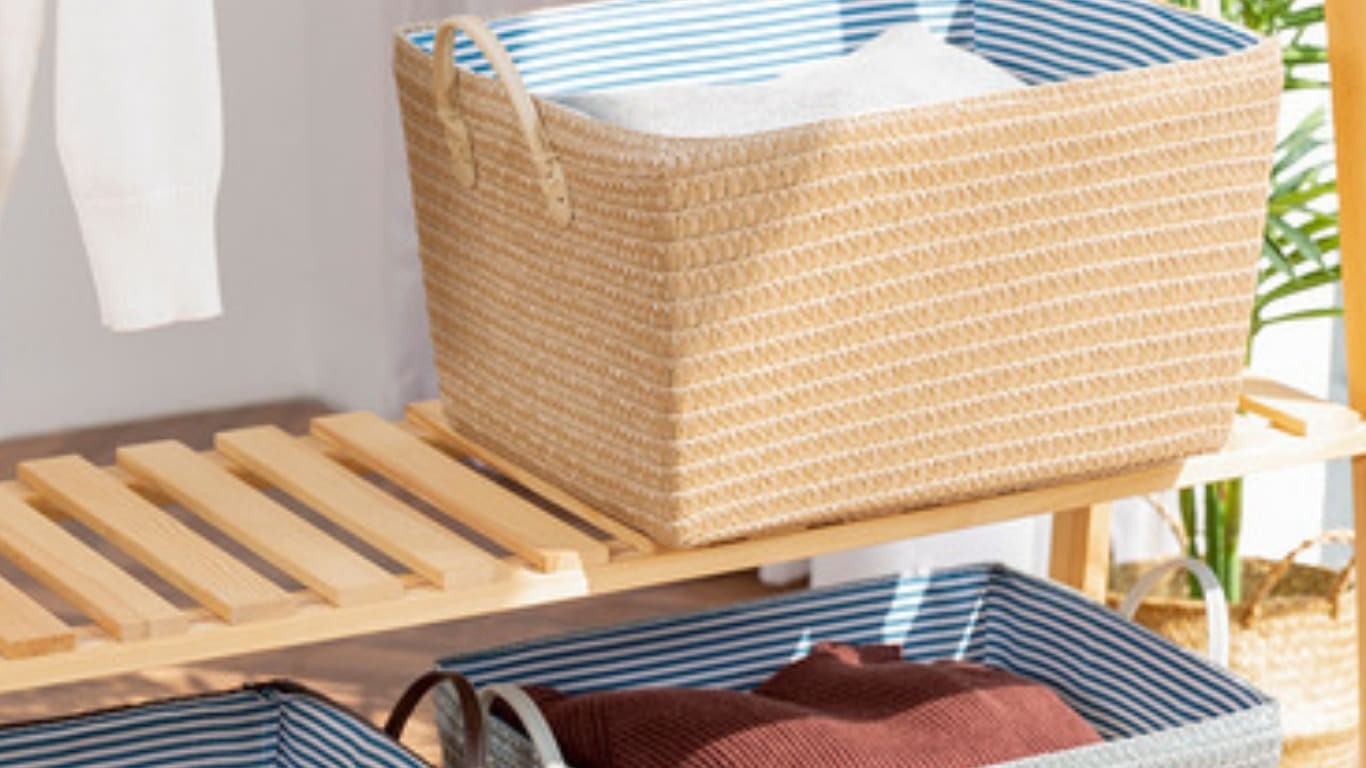 Baskets are an easy storage solution that you can use in every room of your house. These handy organizers come in a variety of styles, sizes, and materials so you can easily integrate storage into your decor. Try these storage basket ideas to organize any space in style.
Make the most of your entryway with baskets for easy storage on a shelf or under a bench. Create a drop zone for shoes by tucking a few large, sturdy baskets on the floor near the door. Use baskets to sort items you don't use often, such as hats and gloves, on high shelves.
All-inclusive basket storage
Use baskets to collect clutter that will clutter your living room. Woven storage baskets can hold toys, games, books, movies, TV equipment, blankets, and more. Hide the baskets under the console so they're out of the way but easily accessible when needed.
Linen wardrobe storage basket
Simplify a crowded linen wardrobe with baskets of various sizes for shelf storage. Large wicker basket with lid for bulky items such as blankets, sheets, and bath towels. Use a shallow wire storage basket or fabric bin to store miscellaneous items like candles and extra toiletries. Label each container with an easy-to-read label.
Closet basket organization
Keep your wardrobe more organized by sorting items into baskets. On the shelf, place folded clothing in wire storage baskets to prevent high stacks from tipping over. Use separate baskets for tops, bottoms, shoes, scarves, and other accessories.
Baskets stored on shelves
Open shelves are not just great places to display books and collectibles; they also ensure that frequently used items are easily accessible. Arrange identical baskets on shelves to organize reading materials, TV remotes, and other small items. Use the large wicker storage basket on the lower shelf to store extra blankets.
Storage baskets near furniture
In the living room, let the storage basket replace the side table next to the seat. The large rattan basket is great for storing extra blankets within the reach of the sofa. Use small containers to collect magazines, mail, and books. Keep the look casual by choosing mismatched baskets.
Extra bedding basket
Don't throw extra bed pillows or blankets on the floor every night. Instead, toss pillows into a wicker storage basket before bed to help keep them clean and off the floor. Keep the basket by the side of the bed or at the foot of the bed so it's close at hand.
Bathroom storage basket
In the bathroom, use a woven or fabric storage basket to hide extra toiletries, towels, toilet paper, and more. Choose from a variety of sizes depending on the type of items you need to store. Prepare a separate basket with soap, lotion, and other refreshing items that guests can easily remove when they arrive.
Pantry storage basket
Baskets help organize pantry staples and kitchen supplies. Place a handled basket on a pantry shelf for easy access to items. Add labels to baskets or shelves so you can see the contents at a glance.
Cleaning supplies basket
Bathrooms and laundry rooms require a lot of storage for supplies. Use durable storage baskets to store soap, cleaning products, brushes, sponges, and more. Once you've sorted your items in baskets, slide them into a cabinet or closet out of sight. Make sure to choose a basket that won't be damaged by water or chemicals.
Colorful storage basket
Using baskets for shelf storage is an inexpensive way to give an ordinary closet a new look. Colorful mix-and-match baskets with labels to organize different types of clothing and accessories. This basket storage idea also works in your child's closet to help them remember where items should go.
Organize shelves with baskets
Check your bookshelves with baskets and litter boxes. In a craft room or home office, storage baskets can store loose items such as fabric samples, paint samples, and project folders. Label each basket to identify its contents and add character to your shelves. To make the labels, attach gift tags to each basket with ribbon and use an erasable lettering decal or write the contents of each basket on the label.
Media storage basket
Use a media organizer to control coffee table clutter. Here, the open shelving unit below the wall-mounted TV takes up little visual space and places media equipment in attractive boxes. A simple, stylish box keeps everything in one place, so you always know where to find your gaming device or remote.
Kitchen counter basket
Use a shallow storage basket to organize cooking oils and spices on the countertop. Line the bottom of the basket with a metal cookie sheet to clean up spills or debris. Place baskets near the stove to keep frequently used ingredients within easy reach while cooking.
Under-bed storage basket
Instantly increase bedroom storage with a large woven basket. Stack sheets, pillowcases, and extra blankets in covered baskets that you can hide under your bed. Prevent scratching the floor or snagging on the rug by adding stick-on furniture sliders to the bottom of the basket.
Decorative storage basket
In bathrooms, storage solutions are often part of the decor. Use labeled wicker baskets to organize extra toiletries in low cabinets. The different-sized storage baskets look like they belong together when they are color coordinated.
上面详细介绍了储物篮的各种用途。如果您想购买储物篮,请
联系我们
.
SUNBEAUTY是专业的
定制家居用品制造商
. 我们所有的产品都符合国际质量标准,并在世界各地不同的市场上受到高度评价。也赢得了国内外客户的一致好评。我们以家居用品的质量为荣,并专注于让每个孩子的生活更加有趣和舒适。