How to Decorate a Halloween Party?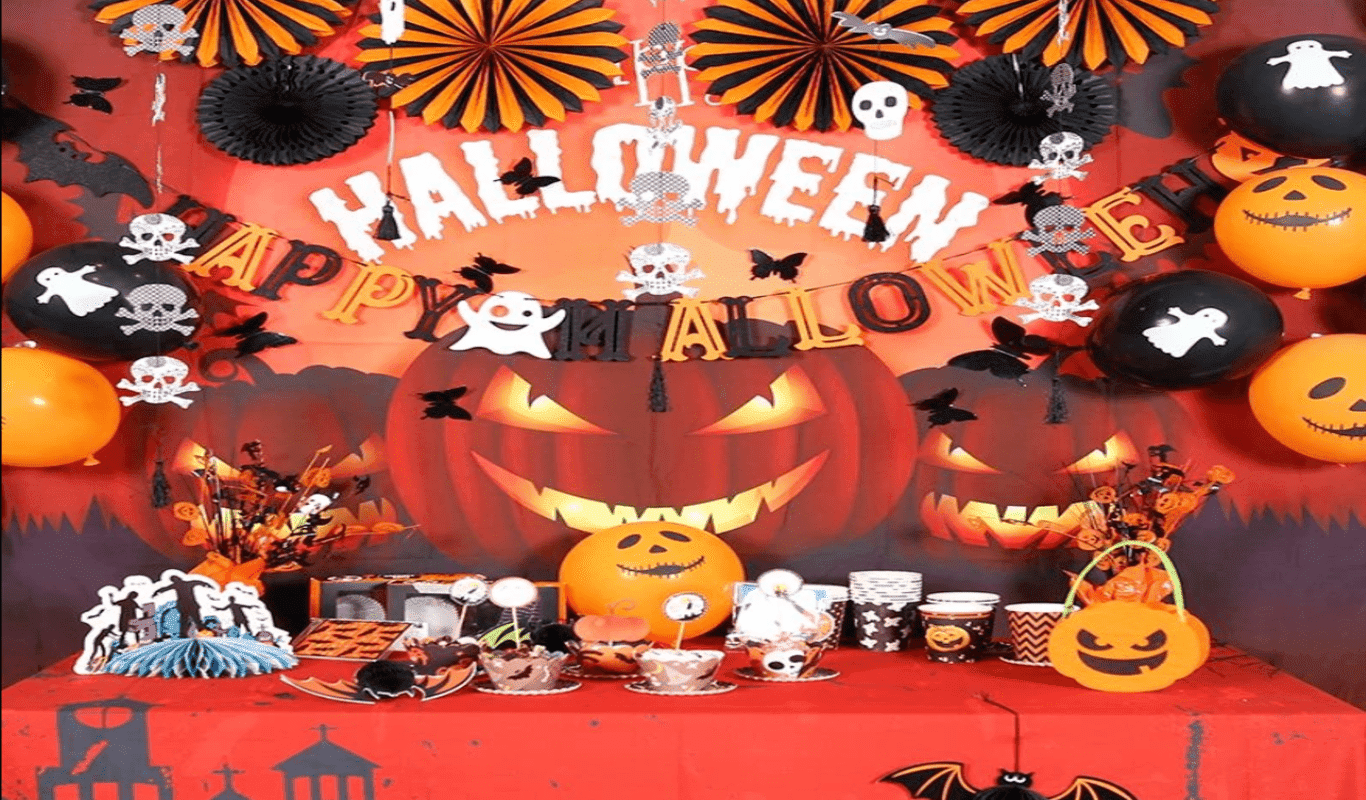 The most important part of a Halloween party is its atmosphere. Hosting a party puts a lot of responsibilities on you, but when it comes to Halloween parties, decorating is even more important. Get creative with your decorations, think about what your friends like, and you can make sure everyone has a good time.
Part 1: Interior decoration
1. Focus on areas where people will spend time
If you're only inviting a few people, you'll probably stick to the living room or dining room, so there's no need to lavishly decorate elsewhere. You can decorate your living room with some Halloween-themed balloons and streamers. If you don't know how many people these rooms can hold, allow 10 to 15 square feet per person, or less if you're happy with a more comfortable room.
2. Hang some artificial spider webs
You can buy prepackaged decorative cobwebs or make your own by separating the cotton balls and spraying them with hairspray. Extend them where they will be noticeable, such as a window or fireplace, but not so low in the doorway that they will get in the way of anyone.
Sprinkle black plastic spiders all over the web, if you have them. Gather them in an area to make them look like a group for added effect.
3. Cut the outlines from construction paper and stick them to the wall
Bat silhouettes are the easiest to make, but anything that evokes Halloween will do (such as spiders, cobwebs, or black cats).
Clipping out a series of smaller and smaller bats gives the impression that they are flying off into the distance. Bending their wings away from the wall will give the whole arrangement a look of more depth.
4. Use dramatic lighting
Illuminating your decorations with a string of white Christmas lights is enough to grab attention and make them stand out. Decorating a paper lantern or lampshade with a cut silhouette can also add to the mood.
Add a spooky vibe to your existing lighting with orange, green, or blue filters (or a combination of these filters). Orange cellophane wrinkled nearby - but not touching - a flickering fake candle light would do the same. Just make sure it's not too close to the bulb.
5. Hang decorations from the ceiling or fixtures
Decorating from above is more immersive than just decorating the walls; cut-out construction paper silhouettes will work, but you can also make some crafty hanging ghosts out of white cloth, string, and any spherical object like foam, tennis balls, or balloons.
6. Liven up the table with DIY ghosts
Stand-alone Halloween decorations are a bit more complicated to make, but you still have options if you prefer to make them yourself. You can make a dining table ghost out of starch and cheesecloth.
Buy or make liquid starch, then cut asymmetrical, fuzzy circles from cheesecloth and dip them into the mixture. Wring them dry, then hang them on a spherical object (such as glass with a ball on top) to dry to form the ghost's head.
Make sure the bottom of the material gathers on a surface as it dries so the ghost will be able to stand once it hardens. Wait for it to dry, about 30-60 minutes, trim the bottom with scissors, draw on the face with a black marker and you're done!
7. Put autumn feelings around the house
There are many carryovers to fall decorations. Pumpkins are particularly reminiscent of Halloween, but other decorations like leaves and gourds are often reminiscent of fall and will remain relevant through Thanksgiving.
Part 2: Setting the mood outside
1. Carve a jack-o-lantern
Jack-o-lanterns are some of the most well-known Halloween decorations, and carving one to decorate your porch is a Halloween mainstay. Wait until near the event to do this; unlike solid pumpkins, carved pumpkins only last a week or so.
2. Build a porch scarecrow
If you have a porch swing or enough room on the porch for a stuffed toy to sit or stand, gather some old clothes, including a long-sleeved shirt and some stuffing material (straw, leaves, or newspaper will work).
Fill the torso with filler material. Wrap it around something hard, like PVC pipe, to help it stay upright. Wear gloves and shoes for its hands and feet; you can pin or glue them on.
For its head, use an upside-down bucket, or fill a pillowcase or burlap bag. Add a straw hat to complete the ensemble, then use some length of wire to secure the scarecrow anywhere you want.
3. Decorative door
Just as it's wise to focus on indoor rooms where people actually spend most of their time, it's helpful to pay attention to your door, as this is where every guest will interact with.
Cover the door with a cotton spider web, wrap it in gauze (plus gooey eyes) to make it look like a mummy, or stick a decoupage outline.
4. Make your own mist with dry ice
You can buy dry ice for as little as $1 a pound, and some stores only sell it seasonally and only as a Halloween decoration. Add one pound of dry ice per half a gallon of hot water to maintain the misting effect. (Two pounds will last about 20 minutes.)
5. Make sure your window decorations are visible at night
If you're applying window trim inside, they may already be visible from the outside, outlined by an interior light. If you don't have them, or if they're not obvious, consider adding some. The silhouettes on the windows will be some of the most striking details for anyone approaching your home.
Part 3: Planning the event
1. Prepare Halloween food and drinks
Depending on the age group you plan on, this might mean finding Halloween mixes or having enough Halloween-themed food on hand. You can buy
Halloween decorative disposable cutlery
that will add to the mood and make cleaning easier.
2. If you are hosting children, please prepare a mystery box
Mystery boxes or sensory boxes are one of the most common Halloween activities for kids. Decorate some Halloween tissue boxes, fill them with mundane things, and suggest they contain something more disgusting (like a box full of grapes, labeled "monster eyes").
3. Plan separate activities for adults
Adult games usually don't rely too much on props, but something planned is still smart. If you don't have any Halloween-themed games on hand, just adapt your existing events to make them Halloween-related.
Play some movie drinking games, but only use horror movies. Try Halloween-themed karaoke. Organize an anagram game limited to horror movies or mythical monsters.
4. Stock up on party favors
As with any party involving children, the benefits of the party are crucial to their experience. These can be bought in stores, but you can also apply your decorating skills by making them yourself. For example, fill small jars with candy corn, or wrap popcorn in cellophane and paint Halloween on the outside.
The above describes the steps of dressing up for Halloween in detail. If you want to buy Halloween-related decorations, please
contact us
.
SUNBEAUTY is a professional
custom party supplies manufacturer
. The company adheres to the business philosophy of "quality proves strength, details achieve success", and strives to make every product well. At the same time, we also have a strong design team. Through the accumulation of experience and the unremitting pursuit and improvement of the future, continuous self-innovation, technological innovation, management innovation, and business philosophy innovation, we will provide you with high-quality, preferential prices and more fashionable products.