How to Plan a Christmas Party
After the last punch and the last bite of dessert, a successful party remains in everyone's memory. But the fuss and frustration of planning can turn out to be a big flop for a party. All the details - what kind of party should I go to? Who should I invite? How should I decorate? What do I serve? -- Even the most experienced host or hostess can be a little stressful. While the rewards of a successful Christmas party can last all year, some may find planning and execution just too tiring.
That's why we've included so many party themes and ideas to make it easy to throw a great event. Our tried and tested themes ensure your party is unforgettable! We'll walk you through the steps of planning and hosting a Christmas party.
Decorate for a Christmas party
The sound of crackling flames, the joy of freshly falling snow, the anticipation of Santa Claus, the smell of cedar trees, the smell of freshly baked Christmas cookies. Essentially, Christmas is a holiday that excites our senses. How things sound, look, feel, smell and taste evoke memories of past vacations and fill us with emotion.
The best way to recreate those memories -- and create new ones for our family and friends is to surround us with something that reminds us of the season. Decorating is one of the easiest ways to achieve this. Whether you're planning a small gathering or a large gathering, decorating your home with seasonal splendor will please your senses and make all your guests feel festive.
Decorative centerpieces: Before you start building your Christmas centerpieces, you'll need to assemble the following items:
Knife
Snowflakes and leaf ornaments
Hot glue gun, glue stick
Evergreen branches
Christmas decoration balls
Small pine cones
Christmas banners
Christmas tree honeycomb
Christmas colors: Christmas is all about colors. Glowing strings of lights, festive stockings, and beautifully wrapped gifts took center stage. The colors you choose to emphasize in your Christmas decorations affect the feeling they evoke. Before deciding on a color scheme, consider your goals - icy and strong, comfortable and traditional, modern and fresh, elegant and luxurious. Once you've planned it, it's time to decorate according to your goals.
I dream of a white Christmas: a white Christmas can be classic and traditional or charming and fresh. That's the beauty of decorating with such versatile colors. With modern interiors, all-white Christmas is trending: current, new, modern. Decorated traditionally, all-white adds a homey feel to the holiday. Shimmering white lights and silver touches are a spectacular addition to the all-white trim scheme. A flickering candle or a roaring flame adds warmth to the pure white and accentuates the shimmering effect of any gold or silver decor.
Now that you've picked out your decorations, it's time to plan your party. Next, we'll help you bring your Christmas party to life.
Planning a Christmas party
Any event planner or caterer will tell you the key to a successful party is planning. Simply making a few dishes and sending out invitations is not enough. A little planning ahead can save you time and hassle later, so take five to ten minutes to imagine the party and walk by as a guest. When party time comes, both you and your guests will have an unforgettable night!
Dream of the perfect party
The holidays are full of parties, so sending invitations three weeks in advance is a good idea. The sooner you send invitations, the less likely your guests are to commit to other events. Your invitation should state when the party starts and ends, and should mention the food you'll be serving, whether it's a light holiday meal or a traditional sit-down dinner.
Choose a menu where many items can be made ahead of time. Some appetizers and desserts can be made and frozen weeks in advance. Other recipes can be mixed together a few days before and stored in the refrigerator. Just bake and finish the day of the party. Remember, parties are not the time to try new recipes. Either test a new menu item before the party or stick to a tried and true recipe.
Choose heavy finger foods instead of recipes that require utensils. Foods that can be eaten without a knife and fork prevent spills and drips and can reduce the number of times you have to wash the dishes later. If you do serve dishes that require cutlery, make sure you have table seating for your guests to sit and dine. Take it easy on yourself. If you're afraid to clean up, choose disposable cutlery and paper towels with Christmas decorations.
Think about traffic flow. Put your bar near ice and water. Place a plate of finger food on side tables and buffets throughout the entertainment area. Provide enough chairs so that at least half of the guests are seated at one time. Place several trash cans inconspicuously near the dining table and bar to prevent the dangerous accumulation of dishes and traffic jams in the kitchen.
Set the mood with holiday music as a backdrop, and lit candles sparkle throughout the house. Personalize the night with special events. Invite your guests to write holiday wishes on a guest book displayed on the coffee table, or ask them to sing carols with you. Small details like these help make your party an event to remember.
Guests love party favors. Bring home your little gift: a trinket, a bag of cookies, or even a candy cane with a bow are all sweet ways to express a happy holiday season.
The above outlines how to plan a Christmas party, if you want to buy Christmas party decorations or Christmas party disposable tableware and tissues, please
contact us
.
SUNBEAUTY is a professional
custom party decoration supplies manufacturer
. Our fun concept is to bring joy to children throughout their childhood - you could say this is where we shine. From the very beginning of our affairs, we provide a personal touch to each event. From seasonal celebrations to warm farewells, birthday parties to sweet baby showers, every party starts and ends with a smile. Life is a big celebration - let's have some quality fun!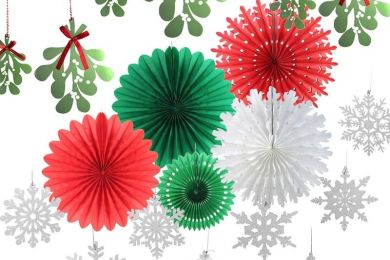 Find wholesale Christmas Snowflake Themed Party Decorations Kit with Hanging Snowflakes Leaves Ornaments at SUNBEAUTY.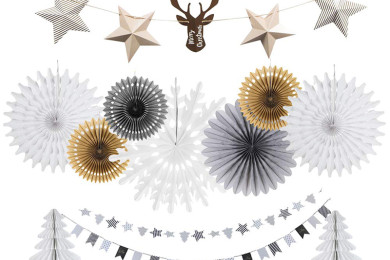 Find wholesale Christmas Party Decorations, Merry Christmas Hanging Decorations, Winter Ornaments Party Supplies at SUNBEAUTY.