Recovery Waist Trainer Belly/Waist/Pelvis Belt -Freeshipping
3 BELTS in 1 SET HELP YOURECOVER QUIVKLY: Postpartum support wrap contains band, waist belt and pelvis binder in one set, fulfilled all your needs throughout the post pregnancy recovery process. This postnatal girdle helps you quickly restore body shape, ease post puerpera discomfort.
EASY TO WEAR, ADJUSTABLE AND REMOVABLE: The postpartum girdle allows put on easily by yourself and pull is equal from both sides,readjust how tight you want it without taking off the band, keep you supported for a long time.
COMFORTABLE MATERIAL: Breathable and comfortable material lightweight fabric waist trainer cincher for women postpartum C-section or natural birth , this postpartum belly belt helps you correct your posture. The waist trainer also helps to avoid the belly band from rolling up when you seat or move,very comfortable,hygroscopic, breathable to wear and easy to clean.
RELIEF THE PAIN: C section recovery belt helps shrink belly, waist and hips;Prevent organs, skin from sagging; Relieve back and pelvis pain; Helps ease transition of uterus, shrink it down to normal size,support your lower back and hold tummy in, redefine the waistline,relief back pain; Minimize stretch marks; Accelerates postnatal healing; Adds support while breastfeeding; Provides comfort after C-Section or natural delivery.
PERFECT GIFT: It is great gift for women just after giving birth or anyone had surgical operation resulting in loose skin and back pain. It can be stretched to fit the natural curves of your body.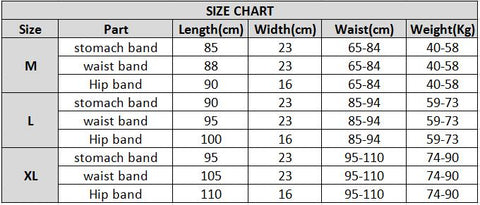 Brand:Logo customized accept
Package: 1 piece into an opp bag
Size: M; L; XL
Material:Polyester 
MOQ:10